First Home Buyers are big winners in this week's Federal Budget announcement. On Tuesday, the Government revealed the 2020-2021 path to economic recovery and once again looked to the construction industry to create jobs and rebuild the nation's economy. 
The announcement sees the First Home Loan Deposit Scheme (FHLDS) extended to offer a further 10,000 eligible first home buyers the opportunity to secure finance with as little as 5% deposit. However, unlike the initial roll out of the scheme, the extended FHLDS is only available to loans for newly constructed properties. National Treasurer, Josh Frydenberg, announced the modified FHLDS extension will 'help to support all our tradies, right through the supply chain including painters, builders, plumbers and electricians".
While it is hoped the extension will improve our economy, it greatly assists First Home Buyers to overcome the challenges of first home affordability. "The Government recognises that saving a deposit has become a more significant barrier to entering the housing market" and the additional FHLDS guarantees will help many more First Home Buyers purchase a home sooner. This year, the scheme has already assisted almost 20,000 First Home Buyers to secure finance for their new home with as little as 5% deposit, with the Government guaranteeing the additional 15% of the property's value.
Round two of the FHLDS has also widened the scope for eligible buyers with the caps on new home prices significantly increased. In Victoria's regional areas, First Home Buyers may now purchase a newly built home valued up to $550,000, an increase of $175,000. The generous increase gives First Home Buyers access to a huge range of House and Land Packages available across our Landgipps residential communities. The FHLDS is available now until 30 June 2021.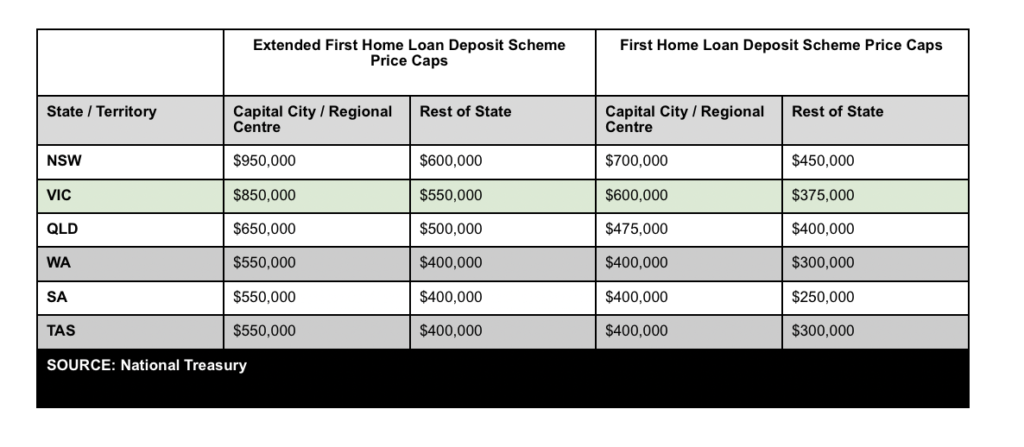 First Home Loan Deposit Scheme Key Points
The FHLDS is not a cash contribution or government grant.
The FHLDS is a guarantee supplied by the Government to the Lender in replacement of a cash deposit from the purchaser. The FHLDS extension will assist 10,000 eligible First Home Buyers to secure finance with a deposit as little as 5%, supported by a 15% property value guarantee supplied by the National Housing Finance and Investment Corporation (NHFIC).
Usually, lenders require a deposit of 20% of the property's value to mitigate their risk of lending money for the purchase of property otherwise buyers must take out Mortgage Lenders Insurance (MLI), adding thousands of dollars to purchasing costs. The FHLDS guarantee eliminates the needs for MLI.
The FHLDS assists First Home Buyers to enter the property market sooner by lowering their initial deposit. It is available now until 30 June 2021.
The FHLDS extension is only available for newly constructed properties, with a property value capped at $550,000 in Regional Victoria.
Income tests apply. For singles, taxable income from the previous financial year must not exceed $125,000 and a combined income of $200,000 for couples. First Home Buyer eligibility requirements also apply.